19.Jun.2018
By Dr. Katy Kamkar, Clinical Psychologist at CAMH, Director at Badge of Life Canada & Assistant Professor, Dept. of Psychiatry University of Toronto
I had the pleasure of being invited to the Toronto International Film Festival- TIFF Bell Lightbox, Science on Film series, to discuss on stage Jason Reitman's comedy- drama film Up in the Air, a film about the psychology of workaholics and the benefits of achieving a work-life balance.
In the film, George Clooney plays a traveler who logs so many miles he takes the term 'frequent flyer' to new heights. However, he does so to the neglect of his personal life.
How do we know if we are a workaholic or not? Is it always a bad thing?
Back on stage at TIFF, I mentioned there is a difference between being a workaholic and being an engaged employee. We can very much enjoy our work however, being a workaholic is spending excessive time and working to the point where we neglect ourselves, and/or have problems building or maintaining other interests in our life such as relationships, our health, or hobbies.
At times, workaholism becomes a way to mask inadequacy or a feeling of a failure, in particular when we experience low self-esteem, a lack of self-worth as a result of basing our sense of self or self-worth on the work we do.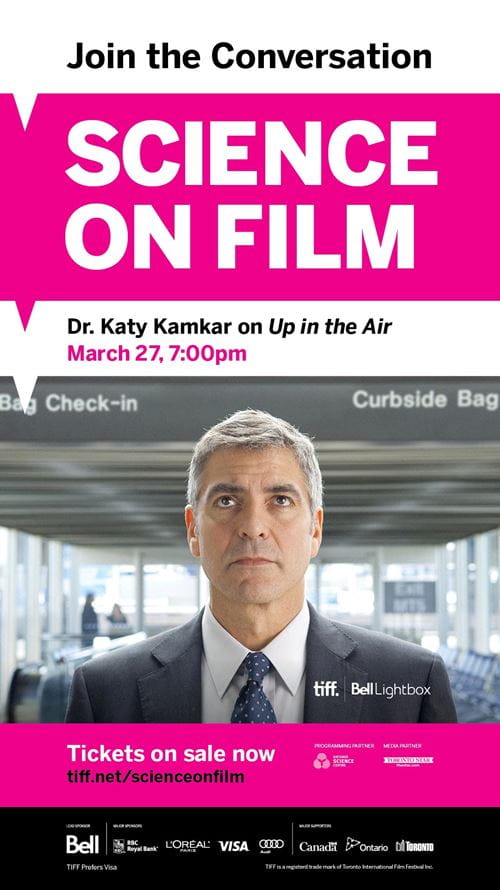 But the question is: "Is being a workaholic necessarily a bad thing?"
Can we be connected and engaged with our work in a healthy way?"
In fact, work engagement and workaholism are two independent concepts. Workaholism has been associated with spending excessive time at work, working hard, work-home interference, constant thinking about work, more interpersonal conflict at work, feelings of low self-worth, job strain and low life satisfaction.
Work engagement, on the other hand, is associated with a willingness to invest and being involved in work, feeling enthusiastic about work, feeling happier and a strong emotional bond to the organization, and experiencing high job and life satisfaction.
Interestingly when we look at motivation level, working hours and levels of burnout, we find workaholics tend to focus more on the instrumental value of a job, that is, they value their job in order to achieve something else. They might for instance show stronger motivation towards gaining approval or appreciation by others, meeting standards to gain a sense of self-worth or to avoid self-criticism.
Engaged employees, on the other hand, find their work inherently satisfying, have a positive self-evaluation and are less likely to be influenced by others.
We also have workaholics who are engaged versus non-engaged. Engaged workaholics are both workaholic and engaged whereby they tend to focus on meeting standards to gain a sense of self-worth and approval however, they also personally value their work. They also tend to spend most time on working.
When we look at level of burnout, evidence pinpoints workaholic employees with highest level of burnout and engaged employees with lowest level of burnout.
So yes, it is complex but we need to embrace and appreciate the complexity. Simply looking at working hours does not help explain the full picture.
We need to create a balance that is individualized to help us achieve health, satisfaction, productivity, and our full potential. Being engaged can protect us against the negative aspect of workaholism and burnout. However our level of engagement also needs to be protected. Self-care and finding our own balance always need to be in check.
I have been asked if I had been cast in Up in the Air whether the movie would have played differently! I responded that the movie might have only been five minutes long!